WAV's 'FROM OUR WAVE TO YOURS' is a various and ever-expanding selection of favourite tracks, albums, labels, artists and more, put together by the WAV team, radio hosts & family. You can call them charts, or staff picks, but we like to refer to them as WAVES, connecting us to you and back. We love music, we want to share what we love, but we don't assume that sharing should be at the expense of the artists. That's why we link all our WAVE-lists to the bandcamp pages of the artists or labels.
The Frenzied Bricks: The Frenzied Bricks (Efficient Space)
Crossing over to Adelaide, odd wave minor players The Frenzied Bricks completely bypassed the history books with indifference. This madcap union of school friends Chris Merchant and David McCarthy cut void-entering motorik and weirdo monologues in bedrooms and suburban rehearsal studios. Rumoured to be an individual, they never bothered to disprove the gossip with live performance. They did however submit aspiring demos to community radio station 5MMM, where they were fortuitously stored for four decades.
The 7" marks the non-band's debut release, combining two should-be classics from the vault. '(Can I) Bridge The Gap' apathetically tunnels with Neu! Order energy, dual bass and McCarthy's laconic vocal delivery, while their only instrumental 'Entropy' calls in guitarist and unofficial Brick Dave Warren to send the TR-808 into the stratosphere. Unknown until now, this is down under synth-wave at it's finest.
Yashuaki Shimizu: Kiren (Palto Flats)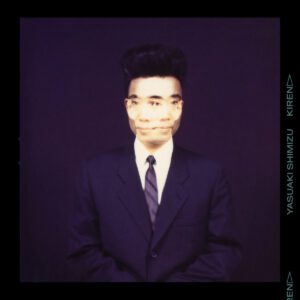 The unreleased 1984 follow-up to the groundbreaking albums Kakashi and Mariah's Utakata No Hibi, Kiren is Yasuaki Shimizu's work for experimental dance music. Employing cutting edge production to create lush new wave soundscapes, it bridges the gap between his early 80s recordings and his later work with the Saxophonettes, filling a key lost chapter in his discography. Full liner notes in English and Japanese by Chee Shimizu.
Ambient Warrior: Dub Journey's (Isle Of Jura)
Originally released in 1995 on the Lion Inc label. The album is rooted in Dub but has a much broader scope taking in various musical influences from across the globe.
Founder Ronnie Lion explains the concept "The Ambient Warrior was created as an outlet for myself and Andreas Terrano. At the time I was running Lion Music in Brixton, a popular mainly vocal roots label, and Andreas was teaching engineering at our studio. I soon realised he was a very talented guitar and piano player (Basement Jaxx also thought so and he worked with them around this time) and like myself we both wanted to create music that reflected our diverse influences. Andreas is of Italian, Armenian and Russian heritage and these musical influences clearly come through on the LP; over a Dub and Reggae backdrop you'll hear a Tango and Bossa Nova style. The players on the album also come from different nationalities and genres, not just from the reggae scene, so this really created something authentic and unique".
The LP has been fully remastered from the original DAT tape with new full sleeve artwork from Bradley Pinkerton. Pressed on heavyweight 180 Gram Vinyl.
Fabric presents Sherelle (Compilation)
This is a a high octane hi energy tribute to jungle, footwork and bass beats, with a BPM that rarely drops below 150BPM. It's a compilation mix curated for fabric's 'presents' series.
Studded with names key to the genres – many personal friends of SHERELLE's – it's a creation that respects both the birth of the jungle scene as well as its current locality. With inclusions like the late legend *DJ Rashad and former footwork dancer RP Boo (who is credited with making the first tracks that fall within the footwork canon), as well the holy trio of current uber cool US producers – New York's AceMo and Kush Jones, the former with the scuffed techno 'Perpetrator' and Kush Jones' breaks-based 'Fuck Off', and Miami-based duo INVT who deliver the bass driven 'SUPER GALACTIC', this release goes off the edge. Frequent collaborators and fellow Londoners Tim Reaper and Worldwide Epidemic furnish cuts of their own, with Paul Pryor's label Time Tunnel supplying hot new productions reminiscent of the glory days of the 90's UK hardcore & jungle rave scene.
Squid: Narrator (Loraine James rmx) (Warp)
Squid on the remixes: "What an honour to have Cosey Fanni Tutti and Lorraine James reinterpreting tracks from Bright Green Field. It's no secret we love electronic music and we couldn't be happier with them. Cosey takes you on a dubby voyage to unexplored space with her remix of Global Groove and Lorraine on the flip takes Narrator to even more paranoid heights."
Native Soul: Teenage Dream (Awesome Tapes From Africa)
On their debut album released by Awesome Tapes From Africa, Native Soul demonstrate the depth of the musical well they draw from. The drawling tempo and synth chords on "Way to Cairo", the album's second song, are reminiscent of a certain type of Kwaito popular with pantsula culture. The most discernible nod to Afro House on Teenage Dreams comes in the form of "Dead Sangoma"'s percussive drums. Similarly, the aptly named "United As One" carries a tinge of Moloko's Sing It Back which was released in 1999, became anthemic in South Africa and continues to represent a belle epoque of electronic music in the country.
Speaking about the conspicuous lack of vocals on the project, Mhlanga says "Vocalists are scarce in my area. I usually create a project and if a vocalist wants to collaborate, I give them the same project for us to take forward."
Biosphere: Shortwave Memories
Iconic Norwegian producer and composer Biosphere follows up his evocative 'Angel's Flight' release with a new album set for release early in 2022. Shortwave Memories is an album inspired by the post-punk electronic music of the late 70's and early 80's, especially the productions of figures like Martin Hannett and Daniel Miller.
"The last few Biosphere albums have all been made using samples and software, but Shortwave Memories is a return to vintage analog hardware from the late 70s and early 80s. Most of these instruments do not have any presets or memory storage, so all the sounds were programmed from scratch. The idea was not so much to make music that sounds like it was written in the same period. It's more like what would happen if I had the chance to use the same instruments, and applied the same meticulous attention to detail as the producers mentioned above.